Underwear As Outerwear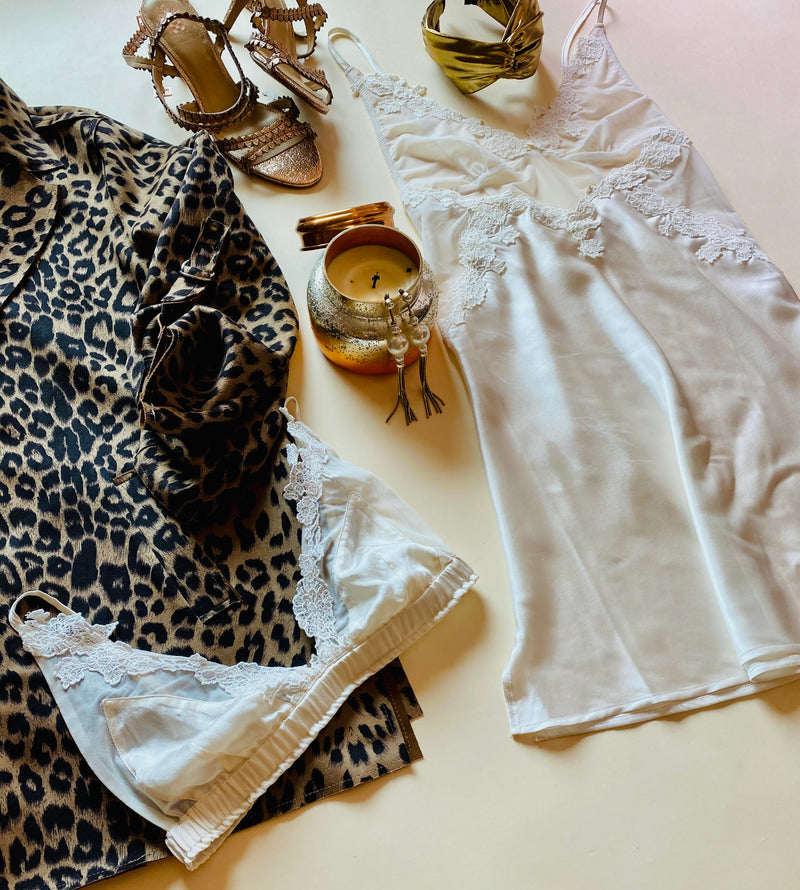 Underwear As Outerwear - How To Style Lingerie With Day & Eveningwear
The work-from-home job force just got a big push from the current global Coronavirus pandemic. 
How do you look when you work from home? Do you stay in your pajamas all day? Do you even shower? Or are you one of those people who insists on looking at your best even behind the screens at home?
If you are a one that loves dressing up, even when working from home, or you consider becoming one, this is the perfect guide for you!
If you are used to starting your day in a certain routine, keep doing that and if not, now might be a great time to start doing things you usually don't have time for in the morning such as working out, meditating, stretching or even journaling.
Getting dressed properly, as if you are going out is one of the most important things to do while working from home. It will help you feel good and will help you maintain your regular morning routine and even might make you be more productive throughout the day. 
I personally noticed that dressing up and even wearing shoes while working from home is one of the best ways to keep me energized and motivated throughout the day.
Now is the best time to - practice your sense of style -  be creative with your outfits and explore cool and daring ways to express yourself. Mixing your best lingerie with your everyday outfits is the most fun game to play!
Kim Kardashian is the one that started the lingerie as outerwear trend a while ago and if you haven't followed that huge trend yet, now is the right time.
Here are some really cool and creative ideas to wear your lingerie while working from home that way you'll feel cozy yet still dresses up!
Bodysuit Is the New Suit
One of the biggest trends for a few seasons now is Bodysuits in all shapes, colors, and materials. And we promise it is not going anywhere!⁠
⁠Since so many of the bodysuits out there already look like lingerie, there is no reason not to wear your lingerie as your bodysuit! ⁠
Bodysuits will look amazing with almost any high-waisted bottom such as jeans, tailored pants or even a skirt. You can even add a leather jacket, an oversized cardigan or a blazer to sexy-up your look. Try this trend -  we promise you'll feel sexy, amazing and eye-catching!⁠
Show a little lace - The Bralette
Wearing lingerie as outerwear and 'playing' with hiding and revealing will make your look sophisticated and sexy. Choose a bralette that has intricate details such as lace, embroidery or unique straps, and make them your perfect accessory. 
Wear your bralette as an accessory

Accessories are meant to boost your outfit, treat your bralettes as if it is one of your accessories. You can wear in many cool ways -  under a tank top (a fitted or a boxy one), under an opened buttoned shirt, on top of a white t-shirt or even on top of a buttoned shirt. Another cool way to wear your bralette is on top of a dress.
Bralette is the new top

Bralettes will also look amazing with high waist pants (tailored, denim or even sweatpants), a skirt paired with a sexy leather or jean jacket. What's amazing about bralettes is that they come in so many styles. It is up to you to choose whether you want to look sexy, edgy, sporty or dainty.
Styling is all about thinking outside of the box. Wearing your lingerie piece is a great way to do that. Show off your boudoir collection by wearing your chemise or your slip dress as a dress. You can never go wrong with a minimalist slip dress and a cardigan.
And this look is seasonless. You can layer it down for the hotter months and layer up your look for the colder ones. When it begins to cool down, you can partner your slip with an oversized printed jacket or a chunky oversized cardigan. 
What's also amazing about it is that regardless of how you style it, we guarantee you'll feel sexy when the soft fabric of your chemise brushes against your skin.
Flaunt Sexy Top - wear your Camisole out
A camisole (also known as cami) is basically a tank top. It really is a timeless piece and is unlikely to become unfashionable anytime soon. The thin straps and the effortless look makes this piece an essential part of any woman's wardrobe. The most trendy ones are the lingerie look ones, their fitting is loose and they are amazing as going-out tops when tucked into a skirt or even with a pair of boyfriend jeans and sneakers!
Wrap It Up - Your Robe Is Your New Coverup
A stunning robe can spice up your entire look. You can wear it open or wrapped around your waist. A unique robe will give you a vintage or boho look and will make you look elegant than ever. Match it with cool denim pants and a simple white T-Shirt and you are good to go!
Wearing your lingerie out is all about layering it up and creating a seductive Hide & Seek' story in your outfit. Be fearless and allow your creativity to shine!
Dressing up everyday while working from home is the best idea but if it feels too much, you can pick your own 'Dressing up' days. That way you'll have something to look forward to!