How To Get The Lingerie Drawer Of Your Dreams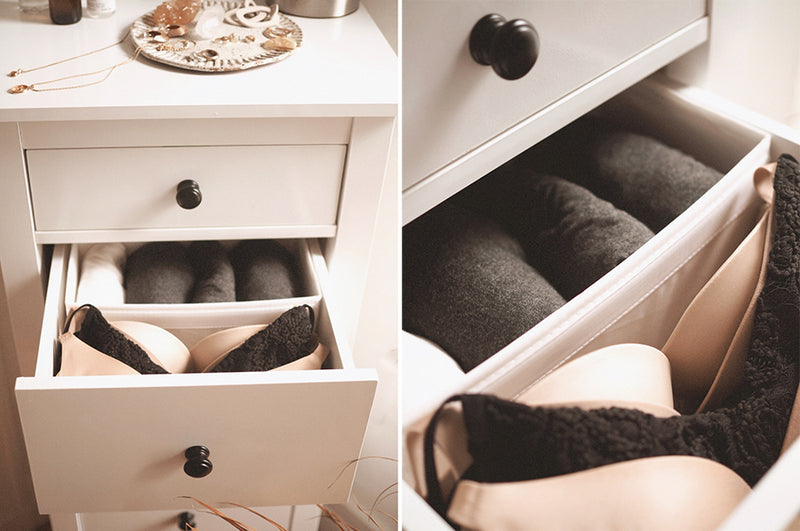 Image from Caroline Joy
Today we're laying the foundation for a DIY drawer cleaning. We're kicking off with our lingerie. 
Before we get dressed in any kind of clothing, we're reaching for our underwear first. That first step should be as easy as it possibly can be.
Most of us can admit that our lingerie drawers could use some serious TLC, we embraced the challenge of whipping them into shape so that getting dressed in the morning is something we can actually look forward to. 
Scroll down to get our best tips -


Step 1 - Out With The Old


Go through every single piece of underwear, and get rid of any item that is worn out or that you haven't worn in a year. If you haven't worn it in that long, you probably never will again!
When trying to decide what to keep versus toss, remember that your end goal is to have a lingerie drawer stocked with only those pieces that make you feel confident, sexy, comfortable, and beautiful!
Step 2 - In with the new


Now that you got rid of some unnecessary items, make sure you have everything you need for your fresh start, it's time to go over the items you have and see if there is anything you might be missing.
Separate your items to two piles of Unwanted items and another one of Wanted ones.
Here are ideas for some essential items:
Bras - Make sure you have, 3-4 comfortable, day to day bras that look smooth under T-shirts. Black, White, and Nude are the best colors, at least 1 strapless bras and 2-3 bralettes (i.e. seamless, lace, or sheer tulle bralettes).
Panties - The rules for panties are a bit less specific. Just like bras, it makes sense to stick with the neutral black, white, and nude color pallet. In items of fit, if there is a specific fit you like, make sure you have at least 5-8 pairs of it. If you are not so picky, it makes sense to buy a variety of thongs, bikinis, and hipster panty styles.
I recommend leaving a designated area for your special Lingerie pieces, especially if they are made from silk or other delicate materials.
Special Occasion Lingerie - If you own some delicate, unique lingerie pieces like corsets, garters, robes, or even silk items, you should treat them with extra TLC. The best thing would be to organize them in a separate drawer or even hang them in a closet. We will talk more about those items in our next blogs, so please stay tuned.
Step 3 - Make It Shine 

With a damp cloth and a gentle household cleaner, wipe down your drawer removing any grime that has been hiding out behind your items. I personally love cleaning with natural cleaning products. My favorite one is White Vinegar. It might have a strong fragrance at the beginning but it goes away very quickly and leaves everything clean and polished. Another great product is the Seventh Generation All-Purpose Cleaner.
Once everything is clean, you can place a thin silk paper at the bottom of the drawer. This will help to catch the dirt & dust for the next time you want to clean your drawer.
Step 4 - Find organization boxes

We all know that underwear drawers can become really messy and real fast. The best way to organize your underwear in the drawer is to use a drawer divider. You can organize them by type, color, or functionality. 
There are some really awesome underwear dividers on Amazon, Bed Bath & Beyond, Target, and more. Here's a great article for some really great organizing items you can purchase.
Another very creative way is to use shoe boxes or other unused ones that you have in hand to be your drawer dividers.
Step 5 - Practice your folding

I am not suggesting any fancy folding techniques, but I can say that folding your underwear, in any technique, will help you take up less space, make the most of a small drawer, and will also help you keep your items in their shape. 
You would think that underwear is impossible to fold but when you think about it, it's actually pretty easy  - in 3 easy steps, you can have them folded and organized:
Step 1: take one side and fold it in
Step 2: Do the same to the other side
Step 3: Fold the bottom in.
Voila! Your underwear is folded.
If you want to discover more, here's a really helpful video with some more great tips on How to Fold Your Underwear. Another awesome and quick way to fold your panties is to roll them - click here to find out more.
Luckily, bras don't necessarily need to be folded. Bras are best stored lying flat — like what you see at Victoria's Secret stores. Don't fold one cup into the other! Instead, lie them within each other, this keeps the cups from breaking and it's also super easy to see your options.
Step 6 - Ditch the scented add-ons

Drawer liners and sachets can only cause problems. The oils in those items can stain and discolor your lingerie. If you really love your lingerie to have an alluring scent, I recommend trying a naturally scented lingerie wash or even placing a small soap bar inside a plastic bag. 
This will last longer and keep your items clean.
Step 7 - Treat your items with tender Loving Care 
Now that everything is organized and in place, your next step is to treat your items with love. Taking care of your garments as instructed by the care label is SUPER important. Always check the tag on your garment for proper washing and drying instructions. We will talk more about how to take care of your lingerie items in our next blogs, so please stay tuned.
Step 8 - Find other uses

Try to be creative and think of how you can recycle your unwanted pieces. For example, If you love sewing, like me, you can recycle details from your lingerie such as lace trims to use it as a cute T-Shirt detail or even as a cute Blazer applique. 

Another cool idea is to frame your lingerie fabrics or trims in a picture frame and add this DIY decor to your home!

There are tons of ways to recycle lingerie (and clothing in general), but if this is not your thing then you can always donate your pieces instead.
I would love to hear - what are your tips for keeping your lingerie organized?
Tell me in the comments below!
Happy cleaning!